By Rick Mastal, Director
Throughout my 20-year career, I have been fortunate to provide strategic planning support for multiple large-scale modernization and reorganization efforts, across a variety of government agencies. Previously, I helped a large-scale client develop and communicate its strategic plan, resulting in the staff developing a clearer picture of, and appreciation for, how the daily functions and tasks they perform help their organization achieve its mission and improve Veterans' experiences.
Most recently, our Trilogy team worked with the Veteran Health Administration's Office of Integrated Veteran Care (IVC) to develop tailored approaches for both near- and long-term measurable improvements in support of their transition to a Highly Reliable Organization (HRO). We configured and deployed an automated intake process, using a sustainable COTS solution, to review requested IT implementation solutions, resulting in reduced review times and identification of potentially redundant or unnecessary solutions.
IVC is a national program office that manages and advocates for Veterans' (and their beneficiaries') access to health care in both VA and community facilities. Their programs include Veterans Community Care Program (VCCP) and Community Care Network (CCN), Indian Health Service, Camp Lejeune Family Member Program, and many other vital services that provide invaluable assistance to Veterans and their families. Transforming a complex, high-impact/high-visibility office like IVC would be impossible without expert, multi-phase planning that is responsive to changing needs as the transformation progresses — something our Trilogy team excels at.
And IVC isn't the only major VA transformation effort that we are currently supporting. VHA continues to undergo significant levels of transformation across the enterprise, with efforts like the Electronic Health Record Modernization (EHRM) and Financial Management Business Transformation (FMBT) modernization programs. Thanks to my breadth of experience with both federal and private clients, I have a unique perspective on what it takes for large-scale, complex organizations to grow, evolve, and optimize.
NOTE: I would be remiss if I did not also mention the many other transformational projects supported by Trilogy's proven leaders, SMEs, and highly trained consultants, such as My HealtheVet, VA Health Connect/Clinical Contact Center Modernization, OIT, and many more. Learn more about our awesome work in this field here!
The three most high-impact support areas where organizations undergoing transformation tend to struggle, and where the biggest opportunities for improvement typically reside, are:
Change Management,
Communication, and
Data Analytics.
I'll dive into each of these briefly here, providing a few actionable recommendations that can be taken to deliver measurable benefits.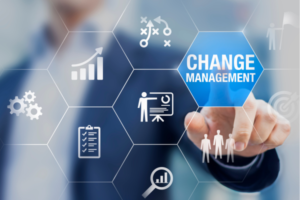 Prioritizing (and improving) Change Management is a necessary (and research-supported) step to take in order to successfully undergo any organization-wide transformation or modernization effort and, ultimately, evolve into an HRO. To make this happen, I recommend increasing access to well-seasoned change management practitioners with Prosci experience/training, embracing a robust and agile enterprise-level change management strategy that identifies and engages change champions/agents with executive sponsorship support, and identifying ways to increase trust and alignment between field offices.
But change management efforts will not be successful without carefully considered Strategy and Communications. To bring your strategic planning and communications plans to life, I suggest:
Developing and deploying an agile and consistent enterprise-level communications plan.
Standardizing communications templates for communications products across the office or enterprise.
Integrating dedicated & experienced communications personnel into enterprise-level planning.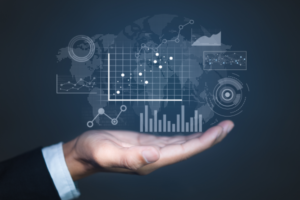 Lastly, focus on Data Analytics to ensure a program's sustained success. These metrics are vital to visualizing, measuring, and tracking the progress of your organization's modernization efforts and are key to promoting sustainability, longevity, and persistent analysis of newly established programs. My top three suggestions here are to:
Identify the root cause of data inconsistencies, duplication, and lack of accessibility to the data.
Educate a wide audience within your organization on data analytics, the benefits it can provide, and the various data analytic solutions already owned by the organization.
Assess the use of newer tools and solutions to take advantage of data automation that can produce impactful data sets and dashboards, empowering leadership to make evidence-based decisions.
This is just a brief synopsis, but Trilogy possesses the corporate competencies, experience, and qualified staff (like me!) necessary to truly help large organizations improve these core capabilities. We base our change management approach on the ADKAR model, tailoring it to meet any client's requirements; we utilize our agile ADDIE communications approach to address evolving requirements, political environments, and complex communication situations; and we provide our clients with structured guidance in effectively managing and visualizing integrated data sets, enabling them to make better and more-informed decisions. Contact us to learn more about what Trilogy Federal can do for your organization!
About Rick Mastal, Director
Rick possesses over 20 years of experience in providing both strategic and tactical management consulting services to federal and private clients such as DOJ, VA, U.S. Air Force, HUD, and telecommunications firms. Over his career, Rick has focused on delivering program/project management, organizational redesign, strategic planning, process standardization, and IT system modernization support. He is a certified project management professional (PMP) and scrum master (CSM) and is dedicated in developing the next generation of management consultants to evolve, adapt, and thrive in a dynamic work environment.